Have you decided to teach Comenia Script® at your school, or are you thinking about doing so?
Is parental consent required to teach Comenia Script®?
In the Czech Republic, the Comenia Script® School program must be incorporated into the school curriculum (SEP). If there is provable evidence that all parents have been acquainted with the SEP and have been made aware of this SEP requirement, there may no longer be another requirement for a parental signature. However, if the school still wants the parents' signature separately, the school may require it. It all depends on the decision of the school principal.
Is it necessary for the teacher to undergo any training or seminar?
A teacher who would like to teach Comenia Script® should undergo training – the Comenia Script® Practical Workshop, which includes an exam. After passing the exam, teachers will receive a certificate from the training organizer.
When will the seminars take place?
Several Comenia Script® Workshops are planned for 2020/2021. Practical seminars are organized by educational organizations, such as the Studio aktivit a vzdělávání o.p.s. / Studio of Activities and Education o.p.s. (www.studio-av.cz); Step by Step ČR, o.p.s. (www.zacitspolu.eu); Zařízení pro další vzdělávání pedagogických pracovníků a Středisko služeb školám České Budějovice / Facilities for further education of pedagogical staff and the School Service Center in České Budějovice (www.zvas.cz); Vzdělávací agentura Mgr. Jitka Blechová / Educational agency Mgr. Jitka Blechová (www.blechova.cz).
This school year, we will also focus on two-day online webinars, which will have the same scope as previous one-day seminars. You can find the current offer of seminars on the introductory page or in the "Teacher training" section. If there are more teachers at your school who would like to be trained, it is possible to arrange a practical seminar directly at your school.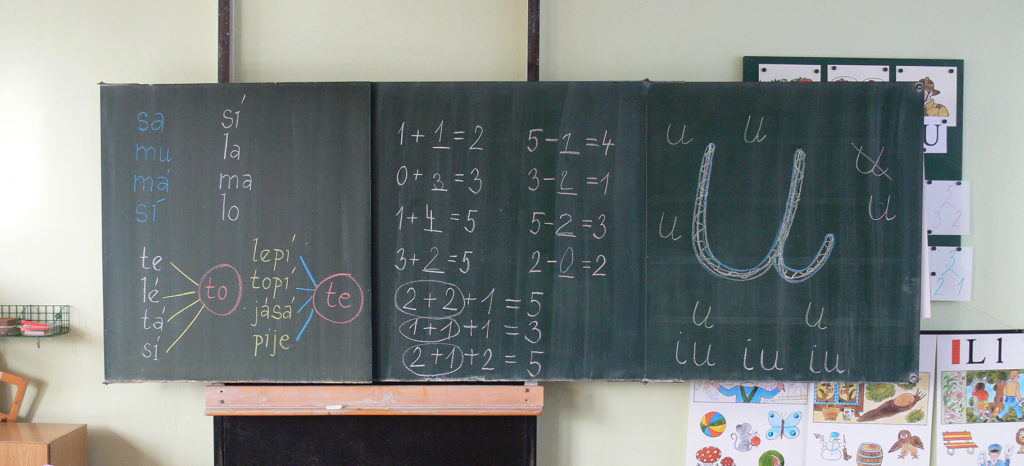 And what about the font in textbooks? Don't children get confused when the old handwriting style appears in them, or is it enough to point out that we are learning to write differently?
A beginners' book which contains an older handwriting style can also be used in conjunction with Comenia Script® font instruction. This was done during the pilot testing. Pupils should be made aware of this: for example, they can be informed that it is a script which has been learned by their classmates or by their parents, and that it is still used. The fact that they get acquainted with the font in this way also has its advantages – they will learn to read this font gradually. Of course, this is also the content of teaching Comenia Script®, but only later, when students fully master writing in Comenia Script®. However, this task is performed individually, according to the student's abilities.
What should be done when transferring a pupil to another school where Comenia Script® is not taught?
Pupils who have learned to write with Comenia Script® should continue with the script they have learned – that is, with Comenia Script®. No one can force them into another writing style, so re-teaching should not be attempted at all! Parents should communicate this fact to the new school before the transfer, to ensure that the student is allowed to continue in this handwriting style. For more information, see the informational document of the Ministry of Education, Youth and Sports for schools on the use of connected and unconnected handwriting styles (section "Let's try" > Download).
What about children's official signatures – can they use a Comenia Script® signature they have learned?
The law does not regulate what is meant by the word "signature," nor does the law stipulate a signature's formal requirements. The signature is usually part of a legal act performed in writing and is a condition of its validity – according to the provisions of § 40 paragraph 3 of Act No. 40/1964 Coll., Civil Code, as amended, the written legal act is valid, if signed by the acting person.
If the term "signature" is not defined in the legislation, it must be given a generally accepted meaning.
The signature must therefore be understood in particular as a handwritten name and surname, or only the surname (however, a handwritten name or a handwritten pseudonym may also be considered a signature, depending on the specific circumstances). Among other things, the signature is intended to guarantee the identification of the person signing, as it is based on the assumption that each person signs in a specific, self-contained way. This also guarantees the authenticity of the signed document. However, it follows that the form of the letter cannot be imposed on the signatory "from the outside", but its special form, font inclination, font size and choice of font style must be respected.
The signature can be made in standard writing, block letters, Comenia Script®, or other (generally undefined) writing style, and the signature can be illegible if it shows at least minimal evidence of being a signature (from the overall form of the strokes, it should be clear that it is a signature).
If the above rules apply to a signature as a requirement of a legal act, then it must be all the more acceptable for such signatures which, although not part of the legal act, are required for various reasons, for example to identify a specific person (which is also the case for a passport holder, if it is a minor child who can already write).
---